The Studio's Competitive Program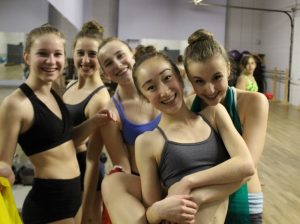 The Studio School of Dance offers pre-professional training to dancers chosen to be members of The Company. The Company currently has about 90 dancers, aged 5 and older.
Competition
Competition is the heart of this program.  After a winter of training, a dancer steps on stage and the music starts . . . . Nothing matches the excitement—unless it is the anticipation of good standing when the awards are handed out.
Company dancers train to enter competitions held in the spring and summer in first-class venues in the Ottawa area and cities in Canada or the United States. Some competitions offer opportunities to win scholarships and form professional dance contacts. Auditions for cruise lines and professional programs are also occasionally available to Company dancers.
Candidates
Candidates for The Company include dancers who wish to further their training through performance and who show a commitment to dance.
By audition or invitation only
A position in The Company is available to dancers following an audition or by invitation of the Director.
Why you might join The Company
Company members do not all aim for a career in dance. Some join to experience the excitement of performance and competition all while learning wonderful life skills along the way.
Greater commitment, greater responsibility
More is expected of dancers in The Company—more rehearsal time, more effort, more teamwork, more responsibility to The Studio, instructor and others on the team. This level of commitment and responsibility is not for every dancer. Consider it carefully before taking it on.
Additional fees
Company dancers must pay for their choreography, competition entry fees and competitive dance costumes. Dancers must also pay for travel, meals and accommodation at in-town and out-of-town competitions.
Steps to full membership in The Company
As a dancer matures and enters into full membership in The Company, she or he will pass through more than one of our programs:
Tiny Tots, for children aged 4–7: This program develops the dancing skills of our youngest members. Tiny Tots take at least 2 classes a week (Jazz or Tap, plus Dance Technique). They attend 2–3 local competitions.
Pre-competitive   This program is for dancers preparing for full membership in The Company. These dancers take at least 3 classes a week (Jazz or Tap, plus Dance Technique and Ballet). They attend 2–3 local competitions.
Full Membership in The Company, for dancers aged 7 and older: These dancers take several hours of classes each week (Jazz, Tap, Acro, Dance Technique, Jumping and Turning, Ballet). They attend 2–3 local competitions and 1–2 out-of-town competitions.
Fundraising
Fundraising opportunities are available. To learn more about them, call The Studio at 613-225-6820.